Multi-Stage Assessment
Our highly-skilled team of experts will perform the following multi-stage assessment
Stage 1: Visual Needs Analysis
To create a customised pair of ZEISS precision lenses for you, we need to know all about your vision and visual needs.
The first step to perfect glasses with ZEISS lenses is the needs analysis. In a one-to-one meeting, we'll find out as much as possible about your eyes and ask questions like these:
What are your visual habits?
How and in what situations will you wear your glasses?
What demands will be made on your eyes on a daily basis – at home and at the office?
How did you realize that you need a new pair of glasses? Do you feel confident driving at night? Are you sensitive to light?
Have previous glasses left any marks on your nose or behind your ears?
Would you like to tell us about any positive or negative experiences that you've had with glasses, contact lenses, varifocals and other visual aids?
As you can see, we are interested in the details and are passionate about precision – and we'd like to begin as we mean to go on. After all, the more we know about your eyes and vision profile, the easier it will be for our experts to optimise your new glasses. Only once we've achieved this precise adjustment will we be able to provide you with a customised pair of glasses with perfect visual correction that is as unique as you are!
Stage 2: Precise Eye Map - i.Profiler® Plus
Precise and effective. Comprehensive pre-measurement with the ZEISS i.Profiler®Plus. To ensure you can see as clearly as possible with your new ZEISS lenses, we measure your eyes as precisely as we can.
To perform the analysis, our ZEISS VISION CENTER experts will perform a conventional eye test and use state-of-the-art precision technology: the ZEISS i.Profiler® Plus In mere seconds, this innovative measuring device can create a comprehensive visual profile that is as detailed as a fingerprint, thereby "mapping" your eyes. The ZEISS i.Profiler®plus takes 1,500 measurements for each eye. This ensures we can accurately identify visual defects like short- and long-sightedness, as well as any others that have gone unnoticed (i.e. higher-order aberrations) and defects that significantly impact our vision at night and at twilight.
ZEISS lenses produced on the basis of such measurements will considerably improve your eyesight by delivering crisper, clearer vision at night and at twilight, as well as reduced glare effects (e.g. from the headlights of oncoming cars), more vibrant colours and improved contrast perception.
Get ready to see the world through new eyes!
Stage 3: Eye Health Check
The screening tells us more about your vision and allows us to determine which ZEISS precision lenses would be most suitable for you.
Our screening involves a thorough preliminary check of your vision.
The human eye is a complex organ – and in this step we take a closer look at it: the screening tells us more about your vision and allows us to determine which ZEISS precision lenses would be most suitable for you. We also check and document the functionality and performance of your eyes by considering different aspects, such as the transparency and the structure of the cornea and the eye's lens, as well as the condition of the retina. If we notice anything out of the ordinary, we will refer you to a specialist for a more thorough examination.
**Please note:
The screening is only designed to identify anything out of the ordinary that could reduce your visual acuity but is by no means a diagnostic procedure. That means it cannot reliably be used to rule out any existing eye diseases. You will need to consult an eye doctor for a definitive diagnosis.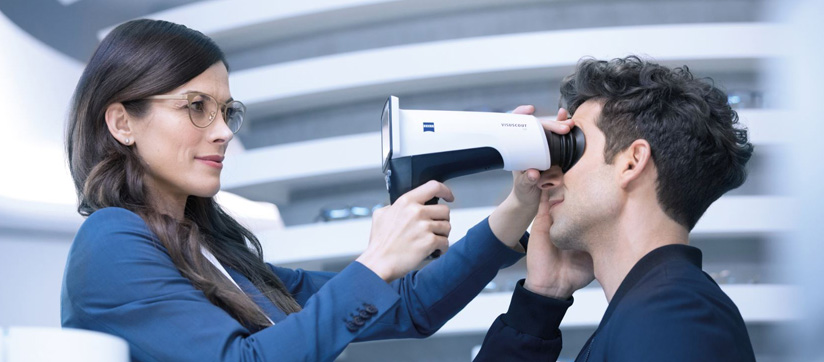 Stage 4: Visual Performance
The classic eye test: lens by lens to optimum vision.
We now perform a classic eye test to identify and analyse different aspects of your vision: your visual acuity, how your eyes work together, and spatial perception. This is known as subjective refraction. Our Vision Analysis expert will show lenses with different powers in front of your eyes in a special refraction room until optimum visual perception is achieved. We use measuring devices like the ZEISS VISUPHOR 500 to more thoroughly inspect your vision. This will provide us with more information, which can be taken into account when producing your new lenses.
The more we know about your vision, the more precisely we can produce your lenses. That's why during our analysis, we take into account all the relevant factors to ensure you can see perfectly with your new glasses:
Customised lenses have to be precisely matched to your personal requirements. Your glasses must allow you to see clearly in all situations – close up, far away and at all intermediate distances, thereby guaranteeing the best possible spatial perception.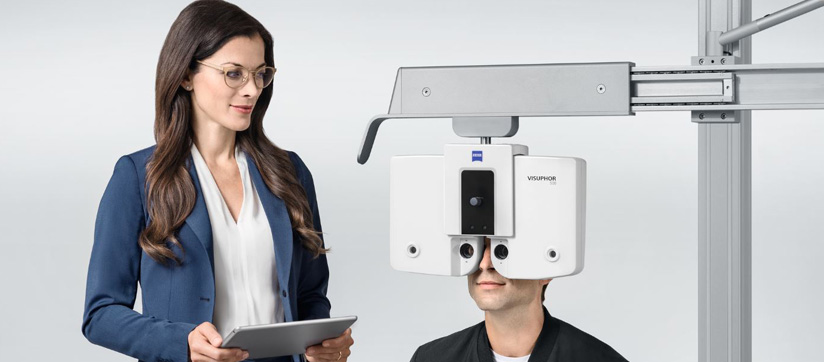 Stage 5: Frame Selection
Which spectacle frames best suit your style?
No other accessory makes such a big statement on your face than a pair of glasses: they can bring your features to the fore or totally change them, express your personality and even create extraordinarily extravagant looks. But which frames suit you best – your face shape, your style and your lenses? This is what this step is all about.
Most people who wear glasses have a hard time figuring out which frames suit them. But don't worry – we're here to help! Our Vision Analysis experts will guide you through our wide range of frames so that you can find your new favourite! We'll recommend the most suitable frames and ensure that the material they're made of matches your needs, and we'll adjust the frames to ensure a perfect fit. There are a few things to bear in mind: we need to take into account your face shape, as well as the size and position of your eyes, ears and nose.
Once the frames are perfectly adjusted, we can calculate and produce the ZEISS lenses so that you can see clearly. Your glasses must fit perfectly, which is essential for the next step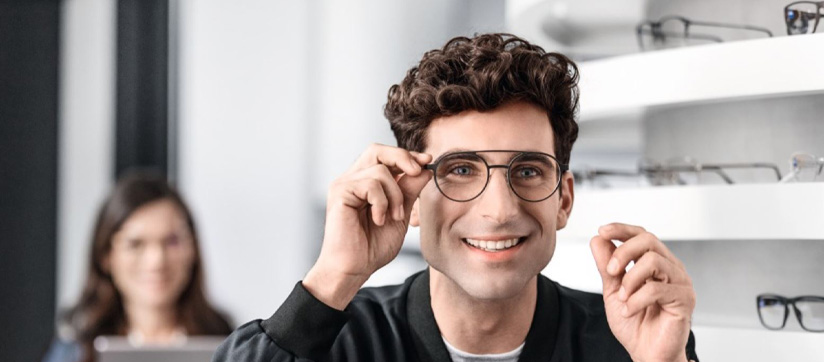 Stage 6: Lens Centration
Only if lenses are correctly centred will they deliver exceptional performance.
Did you know that glasses can only unlock their full potential if they're precisely positioned, i.e. if they fit you perfectly? No one's face is symmetrical, and the distance between a person's eyes, the head tilt and shape of their nose all vary – these factors must all be considered when producing a pair of glasses. This centration is one of the key aspects to take into account when producing a new pair of glasses. Any errors can result in lenses losing up to 40 percent of their optical performance.
ZEISS VISUFIT 1000, this new, innovative centration system precisely calculates and determines the position of the lenses in the frames in line with your visual needs. This is an important aspect when you're trying to find your ideal glasses as it ensures the perfect interplay between frames and lenses. It allows us to produce a pair of precision lenses for you with no limitations in terms of performance.
Stage 7: Your Customised Lens Solution
Now it's time to look at the details: anti-reflective coating, scratch resistance and lens quality.
Even though all the measuring data has now been collected, your new glasses aren't ready just yet. As with a new car, the right accessories will offer maximum comfort! Numerous extras are available, and now we can discuss your options and decide how to proceed: do you require a tint? How hard should the scratch-resistant coating be, and how sophisticated the anti-reflective coating? Which lens design most suits you and your visual profile – and what quality is required?
We don't just ask these questions to find out whether you need single vision or varifocal lenses. ZEISS actually offers a wide range of lens designs in different quality levels – from "standard" to "innovative." Our Vision Analysis experts will then be able to find the perfect solution to suit your taste, needs and budget.
And that's it – the final step before you get your finished pair of glasses.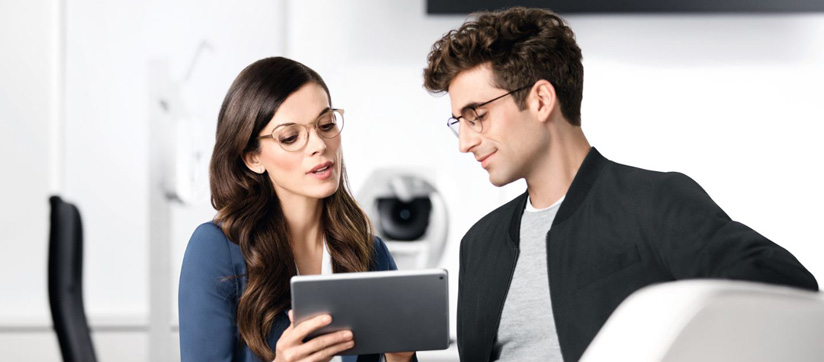 Stage 8: Your Glasses – Ready for Collection
It's always a special moment when you receive your new pair of glasses – after all, greater visual comfort always means a better quality of life – in uncompromising quality.
You can enjoy the results of our ZEISS Vision Analysis and see clearly once again without any headaches thanks to your ZEISS lenses! It's always a special moment when you receive your new pair of glasses – after all, greater visual comfort always means a better quality of life – in uncompromising quality.
[Bitte Garantie mit Hinweis auf Brillenpass / Echtheitszertifikat als separaten Absatz behandeln…]
If you're having problems with your new glasses due to a production flaw or are dissatisfied with your ZEISS lenses for any other reason, we're happy to exchange them for you up to 12 months after purchase as part of our ZEISS tolerance guarantee, or adjust them until you're happy with them.
Did you know that all ZEISS lenses are engraved with our ZEISS logo before delivery? This subtle mark stands for the exceptional quality of your ZEISS lenses and is a guarantee of their authenticity.